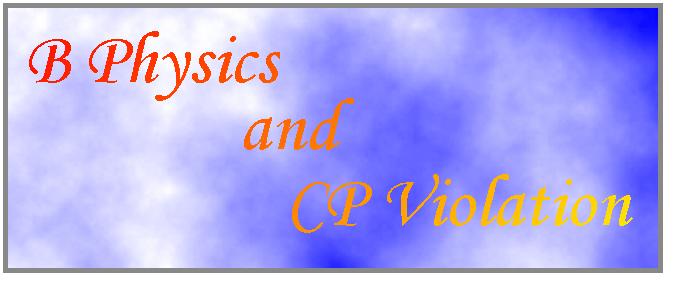 A conference to address the subjects of B Physics and CP Violation. The conference which was organized by the University of Hawaii at Manoa took place March 24-27, 1997 in Honolulu, Hawaii. It was the second conference in the series founded by Prof. A. I. Sanda in Nagoya, Japan.

The third conference in the series BCONF99 will be held in Taipei, Taiwan in December, 1999. For more details consult The BCONF99 Web Page

Two workshops were held in conjunction with the BCONF97 conference: Workshop on Backgrounds at the Machine-Detector Interface March 21-22, 1997 and Workshop on Software for B Factories on March 28th, 1997.


---
>>> *** Conference Summary for the CERN courier *** <<<
>>> *** Postscript Files of Contributions to the Proceedings *** <<<
Instructions for Preparing Conference Proceedings
Conference Agenda
Registration Form
Location and Meeting Dates

International and Local Advisory Committees, Session Chairs and Scientific Secretaries
Registration Fees
Conference Hotel
Transportation from the Airport to Waikiki Hotels
Conference Hotel Registration Form
Other accomodations (a list of hotels)
Luau and Social Program
Excursions to other islands
Conference Poster
Photocopying of Conference Talks
Instructions for Preparing Conference Proceedings
---
---
March 21 - 22, 1997 at the University of Hawaii
March 28, 1997 at the University of Hawaii
---
---
Postal Address, Departmental Home Pages and Phone Numbers: